Hi everyone thought I'd review a few of the books I have that have either given me ideas or have projects to complete in them most books have really useful tips in them which are great for beginners or more skilled hobbyist
Jane Greenoff's cross stitch antique samplers great book has over 30 designs and and projects to follow and plenty of useful advise and tips from a history of samplers to framing your completed work and a very helpful stitch library this was the first book I owned and it was her design i used to complete my first sampler it's available on amazon,play.com and any good bookstore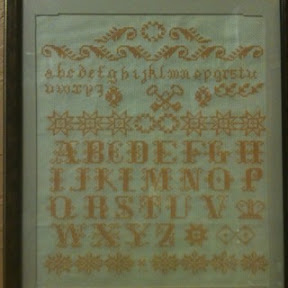 This was the first ever cross stitch I did lol as you can see it's far from perfect but as it was what got me hooked on this fantastic hobby I've kept it.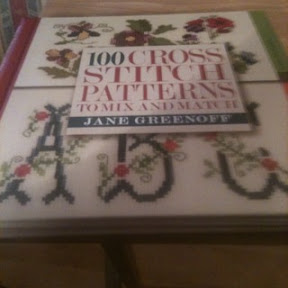 Jane Greenoff's 100 cross stitch patterns to mix and match what I really love about this book is the layout it's done in a ring binder style which comes in really handy when you are working to your own designs it covers Borders,motifs and alphabet styles with a whole range of topics you can create just about any sampler you what for any event or occasion from this book it really is a star buy and is ideal for anyone just starting out with their hobby again this is stocked on amazon and play.com.
Jan Eaton's 1000 cross stitch motifs is packed with very easy to follow charts , tips and techniques and is great for beginners or anyone looking for a few new ideas it has everything you want to design your own sampler and it's a nice handy size if your planing on taking your project out anywhere with you good little buy and handy to have if you want to do something quick.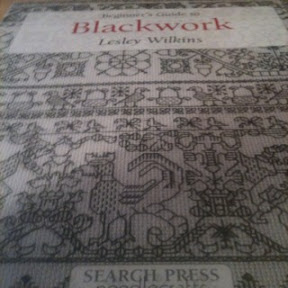 Lesley Wilkins beginners guide to blackwork this is what got me hooked on the royal cousin of cross stitch this book tells you everything you need to know about this form of embroidery from it's background onwards it packed full of projects techniques and filler pattens which is great the only downside to this book is some of the sampler pattens are very small and not that easy to follow without the aid of magnification but that's just a small problem the fillers are clear and easy to follow great buy.This book is available on amazon and play.com
Traditional blackwork samplers by Lesley Wilkins this book is a little more in-depth than the beginners guide to blackwork and the projects in it are fantastic and I'm pleased to say that unlike the beginners book they are clear and easy to follow it is focused more on actual samplers for you to complete other than filler patterns but there is plenty to keep you going it's also great for picking up ideas if you are planning your own sampler design highly recommeded available on amazon and play.com